Overall, (not necessarily related to COVID-19), what are the top challenges you have with vacuum at your company/organization?
Vacuum pumps are used in such a wide variety of applications and touch many parts of everyone's daily lives. The COVID-19 pandemic has certainly not changed anything here. Rather, many vacuum users are life essential businesses and have been experiencing higher demands as a result of COVID-19 response efforts. Respondents were asked overall (not necessarily due to COVID-19) to select the top challenges they faced surrounding their vacuum equipment. The top three concerns of vacuum users are as follows:
Leak Detection,

27%

Maintaining Consistent Pumping Performance,

25%,

Monitoring Pumping Performance,

22%.
These three concerns are closely followed by:
Noise, 21%
Oil leaks, 18%
Pump downtime at

17%.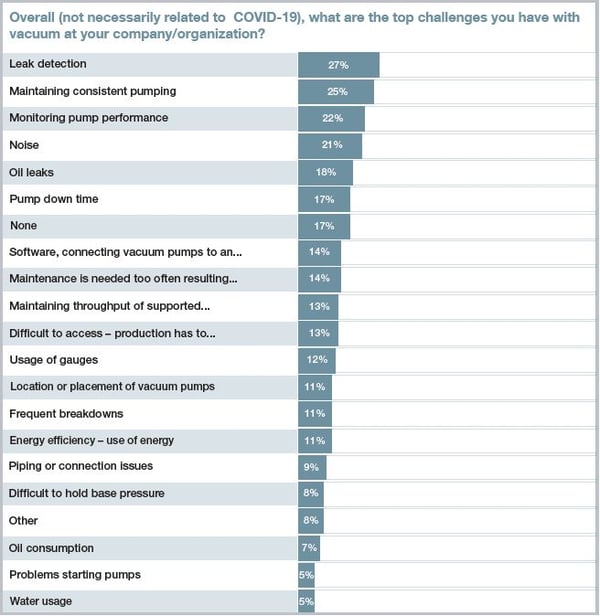 How do you/your company/organization most often service and maintain vacuum pumps?

Respondents were also asked how they deal with vacuum pump service and maintenance at their facility. Most, 53%, take care of vacuum pump service and maintenance themselves. while 31% service their own vacuum equipment by using their internal maintenance department. Only 24% of respondents send their vacuum equipment back to the vacuum pump manufacturer for repair. An alarming statistic given that OEM equipment repair often guarantees longer equipment warranty and can prevent costly downtime in the future as vacuum pump manufacturers often know best how to service the pumps they manufacture.
Read more: Have a rotary vane pump you service yourself? See our 5 tips to keep it running longer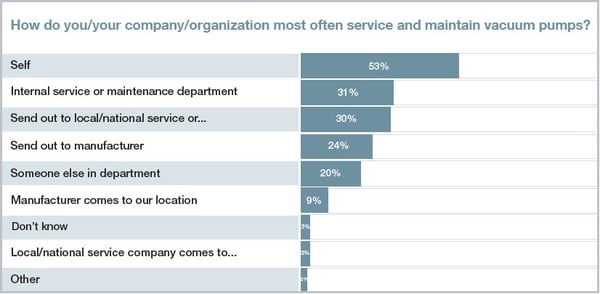 Which, if any, of the following are challenges with maintaining and servicing vacuum pumps at your company/organization?
39% of your vacuum peers say that their greatest challenge with maintaining and servicing their vacuum pumps is the impact of downtime. With downtime sometimes adding up to millions of dollars in lost production, it is no surprise that this would be a significant challenge. The best way to avoid the impact of downtime is to move to vacuum technology with less frequent maintenance intervals, such as dry vacuum technology, or perform preventative maintenance as planned. The second and third most challenging factors when maintaining our servicing vacuum pumps were reported as turnaround time and availability of parts, both at 28%. This is nearly 1/3 of respondents experience delays in needing to maintain or service their vacuum equipment. Field service engineers are often great way to solve for some of this pain, as they come to the users facility with parts in hand ready to quickly resolve problems and get vacuum pumps back up and running as quickly as possible. Field service engineers also take care of the fourth challenge vacuum pump users have when servicing and maintaining vacuum pumps, which is the lack of maintenance personnel available to take care of the task. The least challenging problems (or lack there of) was reported as the disposal of oil – a practice very familiar to those operating commonly used oil-sealed vacuum pumps, at only 8% of respondents experiencing a challenge with this. While this might not point to a significant problem for vacuum users, it is another clear benefit of moving to dry vacuum technology. Add to this the fact that dry vacuum pumps are newer technology with more readily available parts, even though they do rely on experts to often intervene for pump overhaul, and you have a winning solution to alleviate maintenance concerns. Another caution is the use of older style vacuum pumps, often vacuum users are running pumps over 30 years old - thus they fail frequently and often are difficult to obtain parts for even simple repairs.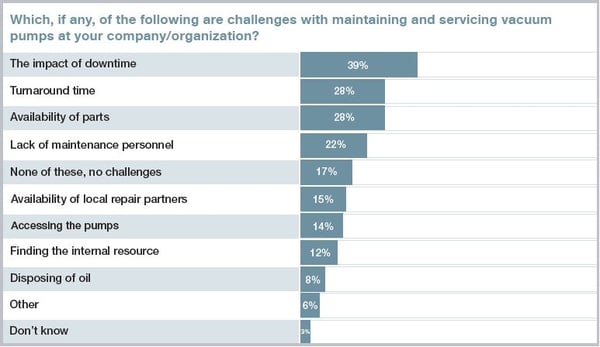 Part 3 of our blog series focuses on the impact of dry vacuum technology, and which of your peers are currently implementing it.
Want to get access to the results early? Download the full report now.