We are excited to launch a new project to measure customer satisfaction with an aim to improve the products and services offered, based upon a recent sales or service transaction.
Following the purchase of a new vacuum product or upon completion of in-house/field service/maintenance, customers may receive a survey questionnaire via email through the "Falcon" platform. Customers will then be asked to rate the experience on a scale of 0 to 10 and then be presented a number of follow up questions based on the score.
At Leybold, our customers opinion is extremely important. The ratings and feedback will help us understand which products and services we offer we need to improve so we continue to deliver an exceptional experience for our customers in the future.
If you have received the questionnaire, we ask you to take a few minutes of your time to reply.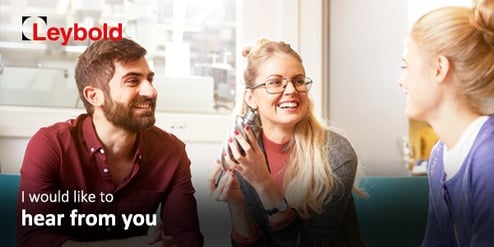 Emails are sent from Leybold CEM customerloyalty@cemfalcon.com.
If you have not received it or if you have lost it, do not hesitate to request a copy from our marketing department at the e-mail address debbie.thompson@leybold.com. And don't forget, your opinion is always important to us!
As always, please get in touch for more information or support.