2020 has proven itself to be a challenging year. With the impact of the COVID-19 pandemic, and the continued business challenges that it puts forth, vacuum pump users throughout the United States are experiencing the effects at varying levels. Leybold has partnered with independent research consultant, Advantage Research, to better understand the challenges of vacuum pump users in 2020. Many of these challenges are a direct result of the changing business climate due to COVID-19, and others have been continually evolving as vacuum technology has changed and businesses have continually been challenged to do more with less.
This three part blog series will review the research findings. Take a look and see how you compare to other vacuum pump users.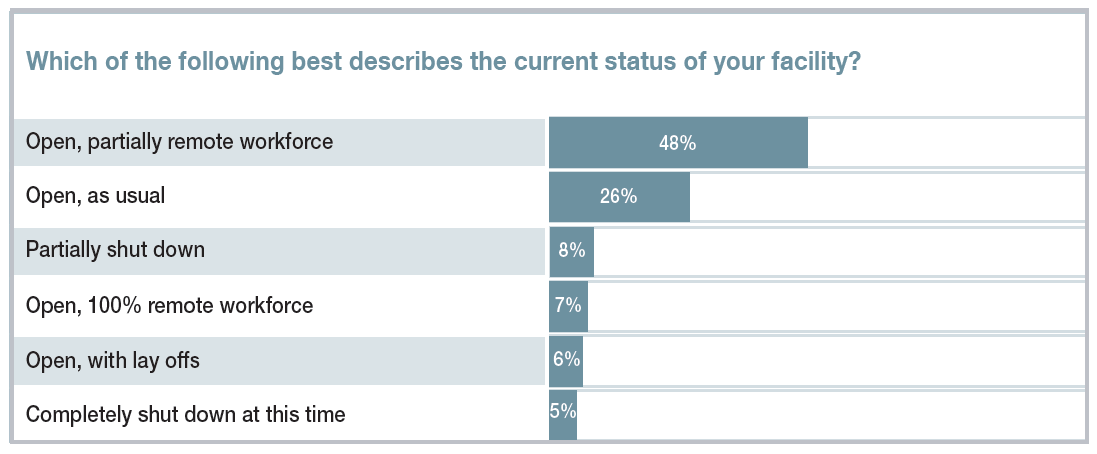 Which of the following best describes the current status of your facility?
Diving into the results of the survey we begin to see the true impact that COVID-19 has had on the operations of vacuum pump users throughout the US. With the survey closing on May 27, 2020, the current state of 48% of the businesses surveyed were that they were open with a partially remote workforce, 26% were open business as usual, 8% were partially shut down, 7% were open with a 100% remote workforce, 6% of businesses have experienced layoffs but we're currently open, and 5% were completely shut down at that time. Survey data on the current status of these businesses was collected in the two weeks leading up to May 27, 2020 and it should be noted that the status of businesses in the US at this time is fluid and continually changing on a weekly or even sometimes daily basis and these results are expected to shift in the weeks and months to come.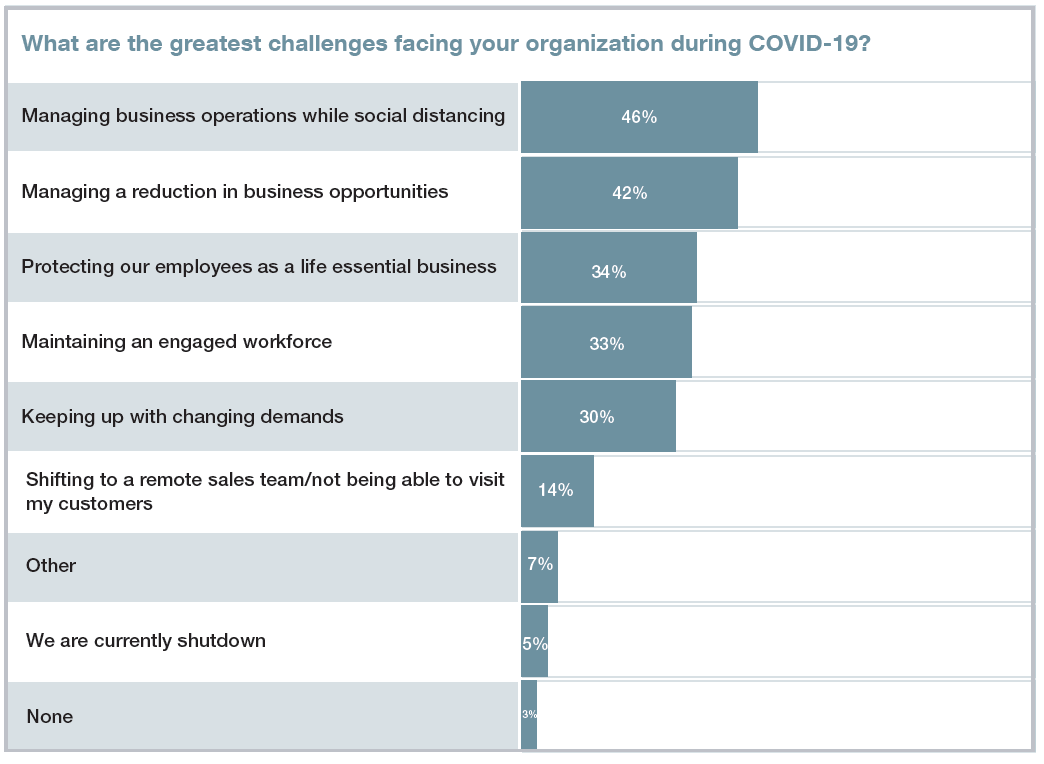 What are the greatest challenges facing your organization during COVID-19?
This survey aimed to understand the greatest challenges facing organizations during COVID-19. 46% responded that managing business operations while social distancing would be their greatest challenge, while 42% chose managing a reduction in business operations, and 34% selected protecting their employees as a life essential business. 33% found the greatest challenge to be keeping an engaged workforce, which translates directly to the findings that many of these businesses had partial or 100% remote teams at this time. 30% identified that the greatest challenge of keeping up with the demands, while 14% identified their greatest challenge was shifting to a remote sales team and not being able to visit customers. Please note that due to the nature of choosing just one greatest challenge at this time we allowed users to choose more than one response.
Which, if any, of the following activities are of greater focus today compared to 6 months ago at your company/organization?
Many industry and application specific surveys, such as this report from Clear Seas Research, have come out over the previous weeks leading into this research project. However, none specifically identified vacuum users and what had changed for them in their organizations as a common user group. The survey looked to examine what activities were a greater focus for vacuum users in comparison to six months prior to the survey date. 74% selected incorporating additional health and safety procedures to be the greatest change, while 32% noted investigating new technologies for future business applications or cost savings were in greater focus than six months prior. In similar fashion to other research findings during this challenging time, learning new skills and attending more webinars are also of greater focus for organizations using vacuum technology at 31% and 29% respectively.
Related: Stay up to date with the latest news and trends in vacuum technology by joining one of our upcoming events and webinars. Click the link below to find out more.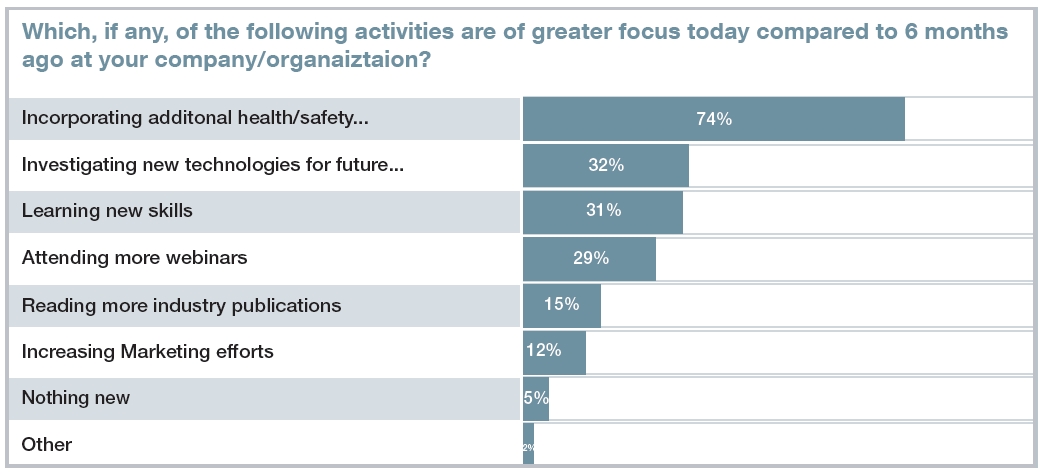 Stay tuned for part 2 of our user 2020 survey, where the research dives into the top challenges facing vacuum users in 2020 beyond COVID-19. Or, if you'd prefer to read the whole survey at once, click the button below and download the full report.